📸
I have assembled some of
my favourite gear
over at
kit.co
. Below is an overview of the kit. All the products are described and linked separately in the text below.
Below are some thoughts on how I use the different gear and apps and why I chose them. I have divided the presentation into some of the activities I use the products in, such as writing and teaching. (Sorted in alphabetical order.)
Everyday living
If you see any photos of me in my wheelchair and wonder what brand I use: it is a Panthera X. It is made of carbon fibre and extremely light. The frame weighs only 2.1 kg. Any extra weight adds up if you, like me, have to lift your wheelchair into the car several times a day.
Out of all the tech I use, my Oura ring is the one that still surprises me with how valuable I find it.
Personal knowledge management (PKM)
This is a massive category for me, and I am still trying many new apps to find the best solution. Most of what I do today revolves around Obsidian, which I use for notes, keeping track of tasks and projects, etcetera. I use Zotero as my primary storage/source for scientific references. This is where I read and annotate papers and articles, and I export the annotations to Obsidian for further knowledge work. I use Readwise for pulling in highlights from Kindle, Readwise Reader and other material to Obsidian. For tasks, I rely on Obsidian's support (via plugins) for syncing with Todoist. I was on ReadWise's Reader waiting list for a few months and eagerly anticipated its arrival. Reader has certainly lived up to the high expectations.
Readwise also surfaces quotes from books that I have read. I am using Refind to surface articles in areas I might be interested in but, in many cases, are not aware of. Every day, I get seven pieces I have not seen before, and one or two are usually spot on.
I have tried and left a range of apps for note taking/making during the last years, but I always end up staying with Obsidian. With Obsidian's addition of Canvas, it will take quite a lot to replace it, at least for my use cases.
Researching
I also count my PKM work as part of my research. Apart from that, I mostly use standard tools such as NVivo for analysing qualitative material.
Photographies are essential in my/our research. Some photos are collected in citizen science-based studies, where the participants contribute photographs, some are sent to us, and some we take ourselves.  I use my iPhone and a Sony Alpha 7 IV for my daily photography. The Sony camera is always with me in my bag, a Wotancraft Pilot 10l. I recently bought the Sony FE 24-70mm F2.8 GM II lens, and I love it. It is such a useful focal length, especially if you, like me, can't "zoom with your feet" in all situations. Currently, I am also exploring what can be done with my Insta360 One RS.
Teaching
During the COVID pandemic, I worked at home like most other people involved in academia. Several of the gear I use today I bought during that period. One example is a Logitech BRIO 4k webcam, which I use in regular Zoom or Microsoft Teams meetings.
When teaching, I mostly use the Logitech webcam or my Sony Alpha III and a Sony FE 24-105mm F4 G OSS lens that I have mounted on a Glide Gear TMP100 teleprompter. This setup makes it easy to start a lecture or record a new video swiftly. I mostly use the teleprompter when making videos since I never have full scripts to read word by word when lecturing.
For recording voices, I use a Shure SM7B hooked up to a Focusrite Scarlett 2i2 via a Cloudlifter CL-1. It is mounted on an Elgato Wave Mic Arm LP. I also have an Audio-Technica ATR2100x-USB with which I have gotten surprisingly good results and which others often praise when I use it in meetings.
My lighting is straightforward, with just two Elgato Key Lights, sometimes enhanced with a NanLite PavoTube II 6C.
I do most of my presentations in Microsoft Powerpoint and am constantly looking for better alternatives since PPT doesn't afford storytelling how I would like it to. The linear format combined with the separations into slides makes it hard to get a nice flow between slides, in my opinion, that is. I use the virtual webcam Manycam to create variations in longer presentations.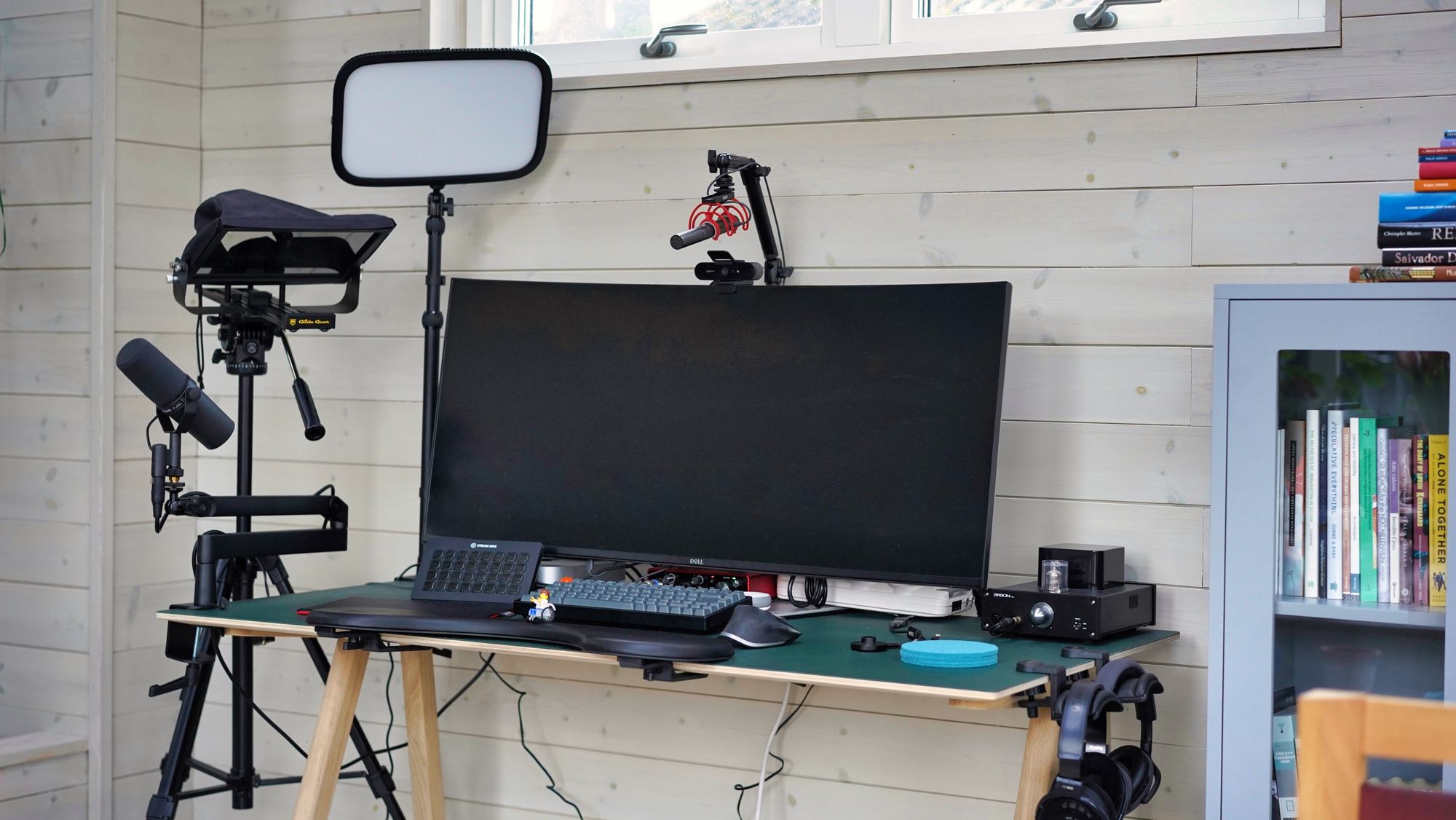 Video-making
I use the same gear for teaching as for video-making. I have a 40 inch Dell U4021QW 2K5K curved screen that makes it easier to edit videos.
The videos I post on YouTube are usually a combination of material from my two cameras and from screen captures of app windows.
I record presentations in Screenflow, and then move the project to Final Cut Pro X for editing and finalising.
Writing
When I am out and about, I use a MacBook Pro M1, 14-inch, that I got from the university in early 2022. However, I do most of my writing in our winter garden which became a combined home office during the pandemic. There, I use a Mac Mini M1 and a Keychron K2 with Gateron Brown switches that are just a clickety-clacky joy to use.
I do most of my writing in Obsidian. I used to use Ulysses for years but got lured away by Roam Research and then moved on to Obsidian.
As an academic, it is hard to get around Microsoft Word, and many journals and conferences are pretty firm regarding what software to use: Word. So, most of my drafts intended for scientific publishing end up in Word sooner or later.  I have used Grammarly for more than ten years. It helps me with structure, synonyms and tone and has checked over 8,5 million words for me by now.